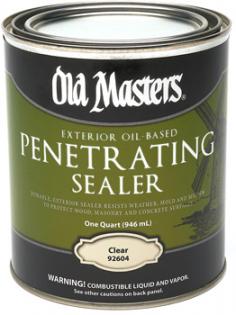 This product is a clear, penetrating oil formulated with natural Tung Oil. Suitable for both interior and exterior applications. On wood surfaces, this product seals out moisture to enhance the life and natural appearance of wood, while preventing staining and checking. On masonry and concrete it will produce a moisture seal that reduces concrete dusting, staining, and efflorescence. Penetrating Sealer also hardens masonry and natural rock surfaces and reduces frost damage. It contains ultraviolet absorbers for advanced sun protection.
Technical Data Sheet
Where to Use
Penetrating Sealer is recommended for use on wood, masonry, and concrete. Suitable for both interior and exterior applications, this product can also be used as a seal coat under clear finishes or paint.
Directions for Use
All surfaces must be clean, dry, and free from dirt, wax, grease, glue, and other contaminants or penetration will be affected.
Wood Surfaces:
Sand bare wood if necessary and remove dust.
Apply two or more liberal coats of Penetrating Sealer, depending on porosity of the wood, at 10 to 15 minute intervals.
Allow final coat to stand for 10 minutes and then wipe off excess sealer.
Apply desired finish coat after the surface has dried for 12 to 18 hours.
Note: When used as an exterior finish coat, do not build an excessive film.
Masonry Surfaces:
Remove all loose particles by wire brushing. Excessive stains or grease-spotted surfaces should be thoroughly cleaned before applying sealer.
Neutralize new concrete, masonry, stucco, or brick prior to application of sealer.
Apply liberal coats as required. Allow 10 to 15 minutes for penetration, and then remove excess material.
Helpful Hint: Penetrating Sealer will amber slightly; do not use on white or light colored masonry surfaces.
Thinning
Do not thin. Use as packaged.
Coverage
Approximately 300 to 600 square feet per gallon.
Drying Time
Penetrating Sealer will dry in 12 to 16 hours. Allow 12 to 16 hours or drying time prior to top coating. High humidity, low temperature, or lack of air movement will extend drying time.
Cleanup
Using a cleaning solvent, such as paint thinner or mineral spirits, is recommended for clean-up. The use of paint thinners or mineral spirits may violate VOC compliancy in your area. Check with your local government agencies to ensure proper compliancy.
To avoid spontaneous combustion during temporary storage, soak soiled rags and waste immediately after use in a water-filled, closed metal container.
MAX VOC: 200 grams/liter (7.6 lbs/gal)
Why use a sealer?
Sealers help to protect interior and exterior surfaces. With deep penetration, the sealer helps to seal out moisture on wood, masonry, and concrete. Penetrating sealers also contain ultraviolet absorbers for advanced sun protection.
Use Penetrating Sealer on:
Exterior wood surfaces; top coat with Spar-Marine Varnish or Ascend Exterior®
Exterior brick, masonry, and concrete
Natural rock surfaces
Interior window sills and trim; top coat with Spar-Marine Varnish or Ascend Exterior®