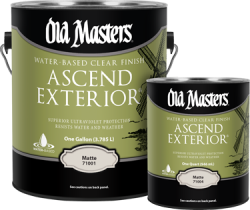 Ascend Exterior® Water-Based Clear Finish is a durable coating designed for exterior application on wood, fiberglass, coated metal, or painted surfaces. It contains ultraviolet absorbers for advanced sun protection, and dries quickly and cleans easily with soap and water. Use it on properly prepared exterior surfaces, such as railings, outdoor furniture, above waterline marine surfaces, as well as doors (including wood, fiberglass, and steel). It can also be used on interior windowsills and door frames for added ultraviolet protection.
Do not use on wooden decks, steps or fences, log homes, or surfaces below the waterline.
Technical Data Sheet
Product Information Sheet
Surface Preparation:
All surfaces must be clean, dry, and free from dirt, wax, grease, glue, and other contaminants.  DO NOT use over shellac, lacquer, filler, stains, or sealers containing stearates.  After sanding, remove sanding dust with a vacuum or damp cloth.  DO NOT use a tack rag to remove dust as it may leave a residue that will interfere with adhesion.
Bare Wood: Thoroughly sand surface, starting with medium grit sandpaper progressing to fine grit sandpaper. Always sand in the direction of the wood grain. Do not use steel wool.
Previously Finished Surfaces: The surface should be sanded to remove imperfections and gloss using fine sandpaper. Do not use steel wool.
Stained Surfaces: Stain must be thoroughly dry before applying clear finish. Allow oil-based stain to dry a minimum of 24 hours in good drying conditions before top coating. Do not sand uncoated stained surface.
WARNING! If you scrape, sand or remove old paint, you may release lead dust. LEAD IS TOXIC. EXPOSURE TO LEAD DUST CAN CAUSE SERIOUS ILLNESS, SUCH AS BRAIN DAMAGE, ESPECIALLY IN CHILDREN. PREGNANT WOMEN SHOULD ALSO AVOID EXPOSURE. Wear a NIOSH approved respirator to control lead exposure. Clean up carefully with a HEPA vacuum and a wet mop. Before you start, find out how to protect yourself and your family by contacting the National Lead Information Hotline at 1-800-424-LEAD or log on to www.epa.gov/lead.
Application
Stir thoroughly before and during application. DO NOT SHAKE. Test the finish on an inconspicuous area to ensure adequate adhesion. Ascend Exterior™ Water-Based Clear Finish appears milky in the can but dries clear. Do not apply in direct sunlight or areas of extreme air movement.
Apply with a synthetic fiber brush, foam brush, flat pad, or sprayer. A short nap roller may be used for large flat areas but must be brushed immediately to alleviate air bubbles.
Apply in full, even coats in the direction of the grain. Do not over apply. Over applying can produce a milky appearance. Do not over brush or create excess air bubbles.
Ascend Exterior™ Water-Based Clear Finish will dry to touch in 30 minutes and can be top coated after one hour. Sand lightly between coats with fine sandpaper to produce a smoother finish. If sandpaper gums up allow more drying time. Remove sanding dust.
Reapply. Allow 1 to 2 hours before recoating. Three coats are recommended for minimum protection. Additional coats are recommended for wood, fiberglass, and steel exposed to direct sunlight.
Thoroughly coat all sides of your project to ensure proper seal to protect against moisture.  If all sides are not properly sealed, moisture can seep under the existing finish and cause coating failure.
Do not use on decks or areas that are subject to foot traffic.
Maintenance
As with all exterior clear finishes, this product will not offer unlimited protection against the elements. Surfaces that receive direct sunlight may have to be re-coated annually to maintain gloss and to prevent cracking and peeling.
Thinning
Thinning is not recommended.
Coverage
At the recommended dry mil film thickness of 1 to 2 mils, coverage will be approximately 230 to 470 square feet per gallon. Coverage will vary significantly depending on application method and condition of wood.
Drying Time
Apply when air and surface temperatures are between 60° and 90°F and humidity is between 30% and 70%. At 50% relative humidity and 70°F, Ascend Exterior™ Water-Based Clear Finish will dry to touch within 30 minutes and ready to top coat after one hour. Dry time will be affected by temperature, humidity, and film thickness. Protect product from freezing prior to and during application. Wait 24 hours before subjecting surfaces to light use. Care should be used during the first week after application as the finish is still curing to its ultimate hardness.
Clean Up
Wash brushes and equipment in warm, soapy water. Rinse clean.
MAX VOC: 140 grams/liter (1.17lbs/gal)
CAUTION! Do not take internally. Close container after each use. Protect from freezing. KEEP OUT OF REACH OF CHILDREN.
Why use clear finishes?
Clear finishes are used to seal and protect surfaces. In many cases, clear finishes offer lasting, durable protection from abrasion, marring, and chipping. Most clear finishes also protect the surfaces from damage caused by water and alcohol. Exterior clear finishes provide protection to withstand water, weather, and sunlight.
Suggested Supplies
Fine grade sandpaper or nylon sanding pad
Tack cloth
Stir stick
Drop cloth
Quality, China bristle brush
Rubber gloves