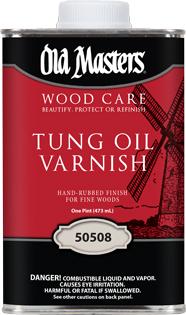 This product is made from a blend of Tung Oil and fine varnishes. It dries to a durable, non-oily finish which is water and alcohol resistant. It penetrates the wood surface to protect fine furniture, enhancing the natural beauty and richness of the wood grain.
Technical Data Sheet
Where to Use
Tung Oil Varnish is recommended for use on interior, bare wood surfaces. Ideal for use on antiques and fine furniture. Can also be applied to cabinets, furniture, tables, and bar tops.
Surface Preparation
All surfaces must be clean, dry, and free from dirt, wax, grease, glue, and other contaminants.
Application
• Apply Old Masters Tung Oil Varnish with a lint-free cloth, rubbing in the direction of the woodgrain. For brushing applications, brush in the direction of the woodgrain.
• Wipe off excess with a clean, lint-free cloth.
• Allow the surface to dry for 4 to 6 hours.
• Buff lightly with fine steel wool and remove dust prior to recoating.
• Reapply. Subsequent coats of Tung Oil Varnish will increase the depth and luster of the finish.
Thinning
Do not thin. Use as packaged.
Coverage
Approximately 678 square feet per gallon depending upon method of application and the type and porosity of wood.
Drying Time
Apply when air and surface temperatures are between 60° and 90°F and humidity is between 30% and 70%. At 50% relative humidity and 70°F, Tung Oil Varnish will dry in approximately 4 to 6 hours.
Cleanup
Using a cleaning solvent, such as paint thinner or mineral spirits, is recommended for cleanup. The use of paint thinners or mineral spirits may violate VOC compliancy in your area. Check with your local government agencies to ensure proper compliancy.
DANGER: Rags, steel wool, sanding residue, and other wastes used or soaked with this product may spontaneously catch fire if improperly discarded. No ignition source is required for these wastes to start on fire by themselves. Immediately place rags, steel wool, sanding residue, and other wastes used or soaked with this product in a sealed, water-filled metal container. Dispose of in accordance with local fire regulations.
MAX VOC: 450 g/L (3.76 lb/gal)
Old Masters offers an extensive line of wood care products that enable you to beautify or protect all of your fine wood finishes. Using a combination of Old Masters wood care products will ensure these treasured pieces will sustain their beauty forever.
PROTECT
Tung Oil and Tung Oil Varnish are best for. . .
...creating a beautiful, hand-rubbed finish. Both products are ideal for use on antiques and fine furniture. These easy-to-use, rub-on finishes are nearly fool-proof and can be applied easily with a rag.