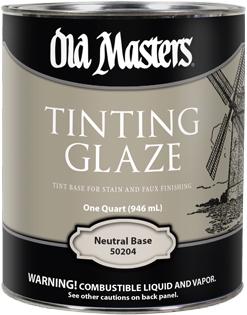 This is a tintable glaze or base for use in creating antique, graining or faux finishes. It can be tinted with any universal colorants or oil-based paint. As a wood stain, Tinting Glaze can be tinted with universal colorants or intermixed with solvent-based stains to create custom colors.
Technical Data Sheet
Where to Use
Tinting Glaze can be used to create antique, graining, or faux finishes. This product provides a wide choice of decorating effects when applied over satin or eggshell enameled surfaces, including furniture, trim, or walls.
Surface Preparation
All surfaces must be clean, dry, and free from dirt, wax, grease, glue, and other contaminants. Surface defects should be repaired with appropriate patching material.
Application
Stir well before use. For projects requiring more than one container, stir well and intermix both containers to avoid color variance.
Application on Bare Wood (used as a stain): Tinting Glaze can be tinted and used as an interior wiping stain. After tinting or intermixing, apply with a clean cloth or brush. Allow it to penetrate 2 to 3 minutes. Before the surface has dried, wipe off excess. Allow the surface to dry overnight and apply one or two coats of clear finish.
Application over Painted Surfaces (used as a glaze): Ensure painted basecoat is thoroughly dry. After tinting, apply the Tinting Glaze thinly over one section at a time using a clean cloth, sponge, or brush. Experiment with various methods of application to achieve the desired effect. To create an antique look, wipe off glaze lightly with a clean cloth, leaving a thin film on the surface and a heavier film in low spots and corners. If the glaze begins to set, add a little mineral spirits to the wiping cloth. For a faux finish, generously dab glaze with a sponge to simulate a marbleized effect. Realistic woodgrain patterns can be created by applying the glaze in conjunction with the Old Masters Wood Graining Tool. To enhance the beauty and wearing qualities, apply one or two coats of a clear finish. Do not top coat with lacquer.
Technical Information
Thinning:
Do not thin. Use as packaged.
Coverage:
Approximately 500 square feet per gallon but will vary depending on use and condition of wood.
Drying Time:
Approximately 3 to 6 hours, depending on humidity, temperature, and use of product (as a stain or glaze). It can be top coated after 12 hours if glaze is thoroughly dry.
Cleanup:
Using a cleaning solvent, such as paint thinner or mineral spirits, is recommended for cleanup. The use of paint thinners or mineral spirits may violate VOC compliancy in your area. Check with your local government agencies to ensure proper compliancy.
DANGER: Rags, steel wool, sanding residue, and other wastes used or soaked with this product may spontaneously catch fire if improperly discarded. No ignition source is required for these wastes to start on fire by themselves. Immediately place rags, steel wool, sanding residue, and other wastes used or soaked with this product in a sealed, water-filled metal container. Dispose of in accordance with local fire regulations.
Recommended Finish Coat:
We recommend Old Masters clear finishes. However, this stain can be top coated with most clears. We do not recommend a lacquer-type finish coat over glazing applications.
MAX VOC: 550 g/L (4.6 lbs/gal)
Wood Graining
Old Masters offers a complete wood graining system. Create beautiful and unique wood grained finishes on steel doors and other smooth surfaces using Old Masters Wiping or Gel Stain, a base color of your choice, and a Wood Graining Tool. Detailed instructions on wood graining can be found on our website and are also included with our wood graining tool.
Antiquing
Antiquing is a common technique used to give painted or stained woodwork an aged look. We suggest accomplishing the antiqued look by using Old Masters Wiping Stain over top of your chosen paint color. After applying a coat of Wiping Stain, wipe the center of the work area clean and build stain gradually to the edges. No abrupt changes from light to dark areas should remain to complete the motif.
Marbling
Marbling is a common faux finish used in painting, but it can also create a very interesting effect with wood stains on wood surfaces. Start by applying a coat of Old Masters Wiping Stain in a color of your choosing to any painted or stained surface. Create the look of marble by crumpling a dry, clean plastic bag. Next, open the bag and lay it on top of the wet stain, pressing the wrinkles into the stain. Create much more intense variations by using other objects such as sponges, rags, or carpet in combination with two or more stain colors.
Distressing
Distressing may seem similar to antiquing, but antiquing makes a piece look old, whereas distressing makes a piece look worn. Creating a distressed look can be accomplished by applying burn marks, nail heads, intentional dents or scratches, and other similar attempts at marring the surface. Applying a stain before this distressing will allow the original wood to show through the stain; applying the stain after the distressing will pool in the imperfections and create dark blemishes. Wiping Stain or Gel Stain is a great option for enhancing the marred surface of your project. Add a splatter effect by dipping an old toothbrush in Wiping Stain and flinging it onto the project.