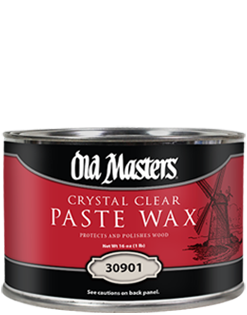 This product is formulated with imported carnauba, the hardest known natural wax. Paste Wax adds richness and luster to wood surfaces and is best used as a polish.
Technical Data Sheet
Where to Use
Paste Wax is recommended for use on interior, wood surfaces it adds beauty and luster to furniture, and woodwork.
Surface Preparation
All surfaces must be clean, dry, and free from dirt, wax, grease, glue, and other contaminants.
Application
Apply wax evenly with a clean, lint-free cloth. A thin coating produces the best results. Allow wax to dry thoroughly before polishing. On newly refinished surfaces, a second application is recommended.
Thinning
Do not thin. Use as packaged.
Coverage
Approximately 1,600 square feet per gallon depending upon method of application and the type and porosity of wood.
Drying Time
Apply when air and surface temperatures are between 60° and 90°F and humidity is between 30% and 70%. At 50% relative humidity and 70°F, Paste Wax will dry in approximately 15 to 30 minutes.
Cleanup
Using a cleaning solvent, such as paint thinner or mineral spirits, is recommended for cleanup. The use of paint thinners or mineral spirits may violate VOC compliancy in your area. Check with your local government agencies to ensure proper compliancy.
Old Masters offers an extensive line of wood care products that enable you to beautify or protect all of your fine wood finishes. Using a combination of Old Masters wood care products will ensure these treasured pieces will sustain their beauty forever.
Learn more about these products below.
BEAUTIFY
Paste Wax is best for. . .
...restoring beauty and luster to interior wood surfaces. Paste Wax adds richness and luster to wood surfaces and is best used as a polish.
PROTECT
Tung Oil and Tung Oil Varnish are best for. . .
...creating a beautiful, hand-rubbed finish. Both products are ideal for use on antiques and fine furniture. These easy-to-use, rub-on finishes are nearly fool-proof and can be applied easily with a rag.