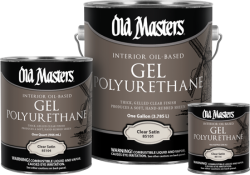 This is an oil-based gelled clear finish that produces a soft, hand-rubbed sheen. Its thick formula enables multiple hand-applied coats without drips or brush marks.
Technical Data Sheet
Where to Use
Gel Polyurethane is recommended for use on interior wood surfaces. This clear finish can also be used over stained surfaces that have thoroughly dried.
Ideal for use on cabinets, furniture, woodwork, trim, and antiques.
Surface Preparation
All surfaces must be clean, dry, and free from dirt, wax, grease, glue, and other contaminants or penetration and adhesion will be affected. Wood surfaces must be sanded smooth and sanding dust removed. Wood that has been stained or finished should dry completely (24 hours) before application of Gel Polyurethane.
Application
Stir thoroughly before and during application. Do not apply in direct sunlight or areas of extreme air movement.
Use a soft, lint-free cloth or paper towel and apply a liberal amount to an entire side or section of your project.
Remove excess polyurethane quickly with a clean cloth, then buff lightly and briskly with another clean cloth, working in the direction of the grain until the surface is smooth with a slight wet look.
Continue to apply and buff until entire project is coated.
Gel Polyurethane will dry to touch in 5 to 6 hours. Allow at least 6 hours between coats. Sanding between coats is not necessary.
Reapply. Two to three coats are recommended; however, additional coats will enhance build and provide greater protection.
Thinning
Do not thin. Use as packaged.
Coverage
Approximately 700 to 750 square feet per gallon. Coverage will vary significantly depending on application method and condition of wood.
Drying Time
Apply when air and surface temperatures are between 60° and 90°F and humidity is between 30% and 70%. At 50% relative humidity and 70°F, Gel Polyurethane will dry to touch in 5 to 6 hours. In case of high humidity, overnight drying may be necessary. Under ideal drying conditions, allow 6 hours before recoating. Drying time will be affected by temperature, humidity, and film thickness. Protect product from freezing prior to and during application.
Cleanup
Using a cleaning solvent, such as paint thinner or mineral spirits, is recommended for cleanup. The use of paint thinners or mineral spirits may violate VOC compliancy in your area. Check with your local government agencies to ensure proper compliancy.
DANGER: Rags, steel wool, sanding residue, and other wastes used or soaked with this product may spontaneously catch fire if improperly discarded. No ignition source is required for these wastes to start on fire by themselves. Immediately place rags, steel wool, sanding residue, and other wastes used or soaked with this product in a sealed, water-filled metal container. Dispose of in accordance with local fire regulations.
MAX VOC: 450 grams/liter (3.8 lbs/gal)
Why use clear finishes?
Clear finishes are used to seal and protect surfaces. In many cases, clear finishes offer lasting, durable protection from abrasion, marring, and chipping. Most clear finishes also protect the surfaces from damage caused by water and alcohol. Exterior clear finishes provide protection to withstand water, weather, and sunlight.
Suggested Supplies
Fine grade sandpaper or nylon sanding pad
Tack cloth
Stir stick
Drop cloth
Quality, China bristle brush
Mineral spirits or paint thinner
Rubber gloves