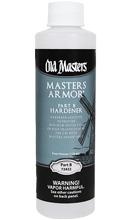 Use Masters Armor Optional Part B Hardener additive for added protection, chemical resistance, and superior durability. For use with Masters Armor only. Provides maximum protection on high traffic floors, bar tops, or tabletops.
Technical Data Sheet
Optional Part B Hardener Additive is for use with Masters Armor only. Great for use on heavy floor traffic, bar tops, or tabletops.
Easy Three-Step Directions:
Add four ounces of Part B Hardener per gallon of Masters Armor.
Mix in slowly.
Stir thoroughly.
* Pot life is 72 hours once added to Masters Armor.
Why use clear finishes?
Clear finishes are used to seal and protect surfaces. In many cases, clear finishes offer lasting, durable protection from abrasion, marring, and chipping. Most clear finishes also protect the surfaces from damage caused by water and alcohol. Exterior clear finishes provide protection to withstand water, weather, and sunlight.
Suggested Supplies
Fine grade sandpaper or nylon sanding pad
Tack cloth
Stir stick
Drop cloth
Quality, China bristle brush
Rubber gloves